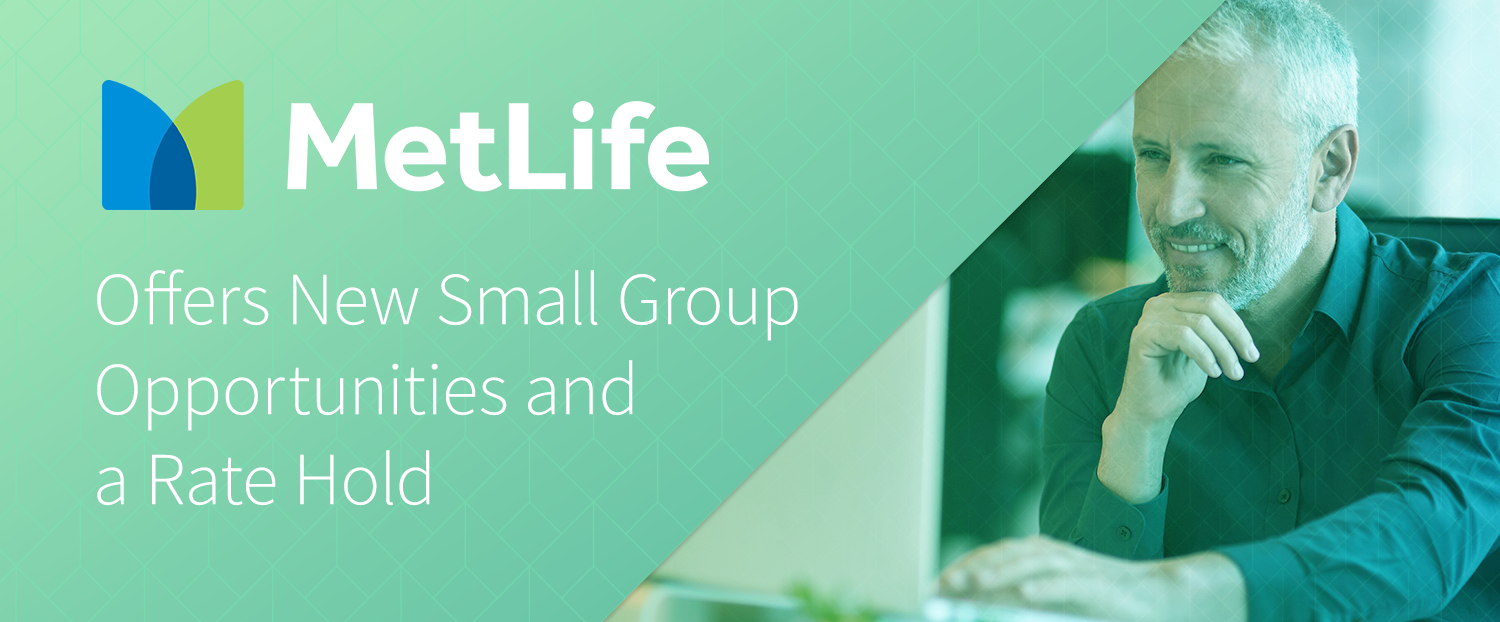 Through CoPower, you can offer MetLife's attractive new enhancements for August 1, 2020 to February 1, 2020 effective dates. 
|   | Previously Available | New Offering for 5-9 Eligible Lives |
| --- | --- | --- |
| New Business Availability | Dental must sell | Dental or two non-dental products |
| Administrative Fees | $15 administrative fee  | $15 administrative fee waived for 5-9 lives |
| Voluntary Products  | Dental and Vision only  | Dental, Vision, and Life |
| Participation | 50% of eligible to enroll with at least 5 enrolled lives | Minimum 5 participants (eligible up to 24 lives) |
| Pricing/Bundling | No pricing flexibility | More competitive pricing and 5% dental bundle available |
Other MetLife Opportunities 
MetLife is also adding more flexibility in plan designs for the 5-9 space:
A $1,500 ortho max option and 100/100/60 in-network coinsurance for dental
Increased dependent life amounts from $5,000 spouse/$2,500 child to $10,000 spouse/$5,000 child
A 6% rate cap and extended rate guarantees consistent with their 10-99 life offering
Additional STD/LTD plan designs (including $1,250 and $1,500 STD max with a 66.67% benefit percentage and an RBD/SSNRA duration on LTD)
An EAP option on LTD
Bundle offering available at 5 lives. This includes the 5% dental discount if sold with 1 additional coverage, the 6%/6% dental rate caps, and the option to quote the 36-month life and disability rate guarantees with the appropriate loads
 A 2-year dental rate guarantee available at 5 lives for standalone coverage
Groups of 5-9 lives can sell without dental, but they need to sell with at least 2 non-dental products
The $15 monthly administrative fee is waived with the sale of dental or 2 non-dental products 
Plan options that were previously available at 10+ lives are now available at 5 lives:

Supplemental life coverage
Dental 100/100/60-100/80/50 coinsurance and child Ortho, 50% to $1,500
Dependent life $10,000 spouse/$5,000 child
Non-contributory STD with a 66.67% benefit and additional maximum options of $750, $1,250, and $1,500
Lesser of RBD/SSNRA LTD duration, $4,000 max, and the option to include an EAP
Voluntary Benefits 
MetLife is offering voluntary benefits down to 100 lives until October 1, 2020. They relaxed the 200+ lives requirement for their voluntary suite. In order to write voluntary products below 200, at least 1 core line of coverage must sell alongside it. 
Why MetLife 
Tech Enhancements: MetLife has added online provider reviews and appointment scheduling, a procedure fee look-up tool, a better online experience, and a mobile app. 
Implementation Updates: MetLife has reduced their implementation timelines substantially, currently averaging 8.3 days (certs delivered). In a recent submission, the timeline was cut to 4 days! MetLife is establishing additional support from local teams to reduce implementation timelines and increase "in good order" scores.
CoPower Advantage
When CoPower administers your MetLife group, you get the ease of CoPower's consolidated billing, the expertise of CoPower's support staff, and the extras of CoPower's Vantage program. 
Rate Hold Through March 31, 2121
MetLife is making brokers and customers their top priority amid the COVID-19 pandemic. For group customers with 99 or fewer employees, they will hold rates (no rate increase) for Dental and Vision renewals with effective dates commencing on or before March 31, 2021. This renewal approach helps ensure the sustainability of the small business customer benefit programs.
For more information, please contact:
Rodney Mattos
CoPower Regional Sales Manager
Email: rmattos@copower.com
Phone: 916.261.9280
Schedule an Appointment with Rodney
or
Jason Diffenauer
CoPower Sales Account Manager
Email: jdiffenauer@copower.com
Phone: 650.931.1731